Are you sure your scalp is healthy? by Salon Cirillo Delta (604) 590-6739
Ailments of the hair and scalp are common and their symptoms can be unpleasant for those who suffer from them: itching, redness, dandruff, bad odour from oily scalp, and in certain cases, hair thinning and hair loss.
Many people have scalp problems they don't even know about. That's why we do a thorough examination and analysis that leads us to the right answer for you.
It is possible to stabilize and/or delay hair thinning and manage scalp ailments. Our "Head First" Hair Loss Prevention & Scalp Health Program is based on the science of Trichology (the science of scalp ailments) and on our 3-step personalized treatment plan can help you with your specific scalp condition.
Using a state-of-the-art technology, we will perform a complete hair and scalp assessment and an analysis of your scalp using a sophisticated microcamera and a unique software, in order to identify the cause of your ailment or hair loss.
Call (604) 590-6739 today to book your free consultation!
Visit  http://www.saloncirillo.com/our-services/hair-loss-prevention/ to download a Free Ebook.
The One Question We Can't Answer About Going Blonde  by Salon Cirillo (604) 590-6739
A lady called us and said, "I've got brown hair. How long will it take me to have an Elizabeth Hasselbeck type of blonde?"
That's kind of like asking, "How many angels can sit on the head of a pin?"
Naturally, we couldn't answer it. Why? We have to see her hair!
You see, all hair has a base color . Without examining her base color, it's impossible to determine what steps we need to take to get that type of blonde, and how long it would take her to achieve the look she wanted.
We also need to look at her skin tone to see if the color she wants flatters her face.
Hair color is a science, and each person is different. That's why a consult is the foundation of beautiful color.
One more thing. DNA plays a huge part in coloring your hair. We can give the lady who called us Elizabeth Hasselbeck-like color, but it won't be the EXACT color because each person's DNA expression is unique.
And that's a good thing! Find a picture of a hairstyle you love. Bring it with you and let it be your guide. You are unique. So is your hair. Enjoy it!
How To Update Your Hair Color      By: Salon Cirillo  (604) 590-6739  Delta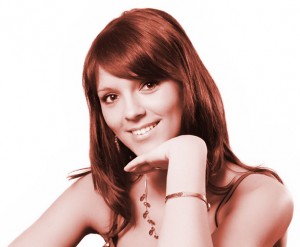 You want a change but the actual thought of a color overhaul is terrifying. We get it. So consider these three little steps to soothe your anxiety and still make a change.
Enrich your natural color. Find shades in your hair color family and bring out the rich undertones by adding more of that shade.
Go one or two shades in either direction of your natural color. This is a simple and not too extreme way to make a change.
Talk to your stylist about your wardrobe. Seriously! Do you wear earth tones or do you lean towards greys and black? This will help us determine what color is placed where.
You're in good hands. Your beauty is our business!  Call us at Salon Cirillo Hare Care (604) 590-6739 to make your consultation appouintment with our stylists.
          Do You Want Frizzy Free Curls?  by Salon Cirillo  (604) 590-6739
Frizzy curly hair is made worse by harsh hair products. Avoid those with a lot of junk fillers. It's a lot like the difference between processed food and organic food. Yes, it makes that much of a difference in how your hair performs!
Deva Curl hair care is made to revive, rejuvenate and inhance wavey to corkscrew hair. It is 100% sulfate free, silicone free and paraben free. Deva Curl contains only moisturizing and water soluable botanicals for maximum hydration. It was created to eliminate frizz and enhance curl definition. A great way to keep your curls happy, healthy and bouncy with a ton of natural shine! A Deva inspired hair cut is also a must. Curls are shaped in their natural state by using the Deva Curl 3 step. Come in and ask our Deva curly hair experts,  and ask  how you can get frizz free natural curls.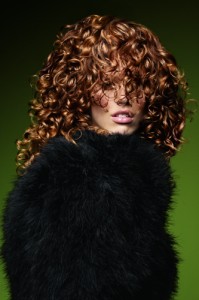 Are You A Candidate For Frizz Free Hair?
By Salon Cirillo  Delta (604) 590-6739
Maybe your hair has seen a bit too much wear and tear. Or, maybe the frizziness of naturally curly hair has you seriously considering a buzz cut.
Whatever the reason, we beg you to re-consider before taking such drastic action!
There is a highly effective and safe solution for over processed, chemically damaged hair, and totally frustrated naturally curly hair.
The gentle formulation of Goldwell KeraSilk hair straightening system allows us to work with any hair type, including salon-colored hair.
Goldwell KeraSilk smoothes curly or frizzy hair, leaving you with the hair you've always wanted, a brilliant shine, manageability, and tons of possibilities for hairstyles for upto 5 months!
Unlike other hair straightening and repair systems, Goldwell KeraSilk does not have an intensive pre-treatment. There are no harsh chemicals and no formaldehyde, but there are the rich, raw materials of keratin,with the most advanced keratin technology available today.
And the results are instant. You will not have to wait 72 hours to wash and style your hair, either. You can do it immediately after the treatment, if you choose.
To maintain your salon results, we recommend the Goldwell KeraSilk aftercare products. What's so special about these products?
Unlike regular shampoo and conditioner, they do not strip your hair of keratin, which would reverse the salon treatment results. Instead, with Goldwell KeraSilk products, you get plenty of nourishment, which replenishes the treatment. (Wait until you use the deep conditioning daily mask! It's incredible.)
The smoothing shine serum protects against thermal appliances, softens, and gives your hair shine from roots to ends.
See why we love Goldwell KeraSilk hair straightening system so much? It puts you and the health of your hair first.
Call us at Salon Cirillo to book your KeraSilk treatment. (604) 590-6739
Love The One You're With  By Salon Cirillo  Call Us (604) 590-6739
Sometimes you and your hair just get sick and tired of each other. You squabble and fight. The result? You wear a hat or put it up in a ponytail because "it's easier."
May we suggest some hair counseling? Make a commitment to renew your relationship with your hair. Here's how. Talk to us about the frustrations you're having with it. We can give you some insights on why your hair seems so uncooperative.
Then use the products and styling tips we suggest and… practice, practice, practice!
Nobody, and we mean nobody, has perfect hair! It just looks like it. Why? Because they work with the texture of their hair to get the look they want. You can, too. We'd be happy to lend our expertise. Just ask.
Stuck In A Hair Rut?  By Salon Cirillo  Call us at (604) 590-6739 
It happens, but you don't have to stay there! Hair ruts are often the result of thinking you're stuck with your hair texture, so why bother?
And that's the first recovery step to getting out of your hair rut. Embrace the natural texture of you hair. Talk to your stylist about what you CAN do with it.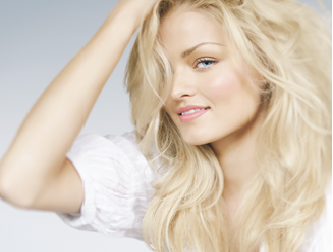 Unlimited Foils
Secondly, consider highlights or lowlights to change your style. Go for a subtle look that warms your face and gives you an overall lift.
And thirdly, take advantage of your stylist's considerable knowledge! Use the techniques, brushes and products recommended to get the look you really want.
We make it easy! Just go to  http://www.saloncirillo.com/current-promotions/unlimited-foils-package/
"Will Coloring My Hair Damage It?"  By Salon Cirillo  Call Us (604) 590-6739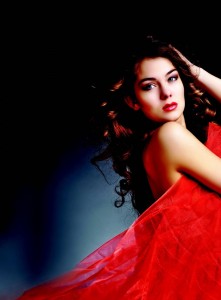 This is a question we hear from time to time from our clients. They want a change, but they're concerned that coloring their hair will cause damage. So, let's set the record straight.
Color is individually formulated. From your choice of color to added highlights or lowlights, we create a look that's totally yours. But before we snip or paint a single strand, we evaluate the condition of your hair.
If it's already damaged, your first priority—and ours—is to get your hair healthy again! That means regular trims with deep conditioning treatments both at home and in the salon—no coloring!
Coloring damaged hair is a prescription for disaster and we won't do it.
Salon color is good for your hair.
Unlike nasty box color, we open the hair cuticle so that the color penetrates deeply. (Box color simply coats the hair.) Then, as part of the coloring process, we add deep conditioning agents to close up the cuticles and seal in your color.
Not only do you get healthier hair, you have full coverage color that's beautiful and long lasting—even with resistant gray!
The point is you've got plenty of color choices to create beautiful, multi-dimensional healthy hair that's just as unique as you are!
Your Thyroid Gland and Your Hair Health
Are you loosing hair for some unexplained reason? It could be your thyroid gland.
This small gland, shaped like a butterfly, is located on both sides of your wind pipe. It could be the culprit in your hair loss. It produces hormones that regulates many of your bodies other hormones and functions and especially your metabolism. This regulator of both body and mind sometimes goes haywire, particularly in women. And can happen at any age.
When these hormones become too high or too low, you can experience many different symptoms. Some symptoms may include, hair loss, fatigue, unexplained weight gain no matter how much you work out or diet or even weight loss no matter how much you eat and even feeling too cold or too hot.
Both hyperthyroidism and hypothyroidism can cause your hair to fall out.
Getting the right diagnosis and treatment is critical to feel your best and avoid any serious health problems. If you think you may have symptoms of thyroid problems, see your doctor and ask to be tested.
The Salon Cirillo  Team at another day of learning and growing so we can keep you on top of the trends and fashion in hair care.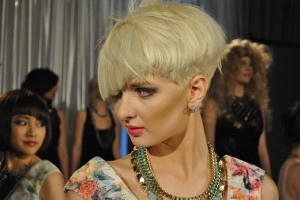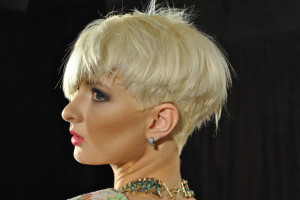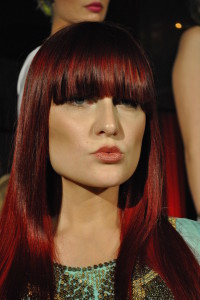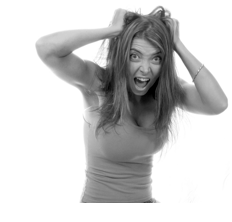 They say that a woman's hair is her crowning glory. Even so, all women have those days when we wish we could cover every unwieldy strand!
Get a good hair cut! It all begins right here. Without a good hair cut, nothing else you do will give you the results you want.
In order to have a good hair cut, you need a great hair stylist and when you find one, keep him/her! Jumping around from stylist to stylist can behazardous to your hair. The old adage about "getting what you pay for" is very true when it comes to something as important as your stylist. Yes, it's possible to find a good stylist at the "fast hair" shops, but the cost to your hair while searching may be more than you care to spend.
Keep your hair clean! There's nothing worse than dirty, oily hair that hangs in clumps.
Use the correct shampoo for your hair type. Not all hair is created equal.
If you have oily hair, do not shampoo every day. As paradoxical as it seems, clean hair makes the problem worse because it allows the oil to seep into the glands making it much more difficult to deal with. Stay away from those "all in one" shampoos. Use a ph-balanced shampoo when you do wash your hair and scrub it well. You may need to change shampoos, so ask your stylist what he or she recommends. Another tip is to avoid oily foods as much as you can. It just contributes to the problem. Eat more fruits and vegetables. Whatever you do, stay away from products that are supposed to make your hair shine! Also do not use conditioner unless you apply it to the ends of the hair strands. Keep it away from the scalp!
Hair looking drab? Need a change? Try a few highlights. It can do wonders for brightening up your hair and face.
Wanna' try some curls but don't want the damage of a perm? Try a curling iron and/or hot rollers. Hot rollers will give you more control, but you won't get those wispy, trailing curls. That you will have to do with the curling iron.
Do not try and curl freshly cleaned hair. Try and remember to shampoo the night before. Squeaky clean hair can sometimes give you difficulty with holding a curl.
Never use a "sticky" hair spray before curling your hair with a curling iron or hot rollers. You can cause damage.
If you are fortunate to have naturally curly hair, have your stylist cut it in layers to take advantage of the new cascading curly look.
If you are athletic, keep your lifestyle in mind when selecting a "do."
If you are blonde or have gray hair do not use any coal tar shampoo product for dandruff as it may permanently stain your hair.
Have you ever almost fallen asleep in a stylist's chair because you felt sooo relaxed? Another good reason for visiting Salon Cirillo !
With award season coming to a close end, many of us sit curiously wondering how to achieve those bombshell curls that the A list stars work so well. Although most of us don't have a 10 person glam squad to prepare us for our own red carpet events, with the right products and tools we too can look like the stars!
KMS Hot Flex Spray is exactly the type of product you need to achieve long lasting curls. This heat activated shaping spray offers flexible shaping and strong hold while protecting your hair from damaging heat and breakage. It is a reliable product, giving your hair the support it needs making a lasting impression on anyone who tries it.
Next comes the perfect hot tool. Bex Curling Wand gives you salon grade "A" quality right in the comfort of your home. Heating to maximum heat, this ceramic wand promotes smoother, and silkier hair. It's heat protective glove and safety cool tip aids in burn free curls, enabling you to achieve pro curls in no time.
Finally, grab a flat paddle brush to run through your hair and you've got it! Red carpet waves without the entourage and hassle. A simple and easy way to achieve the glamorous style you see in the magazines. Give it a shot, with the proper tools and products you too can achieve salon worthy styles.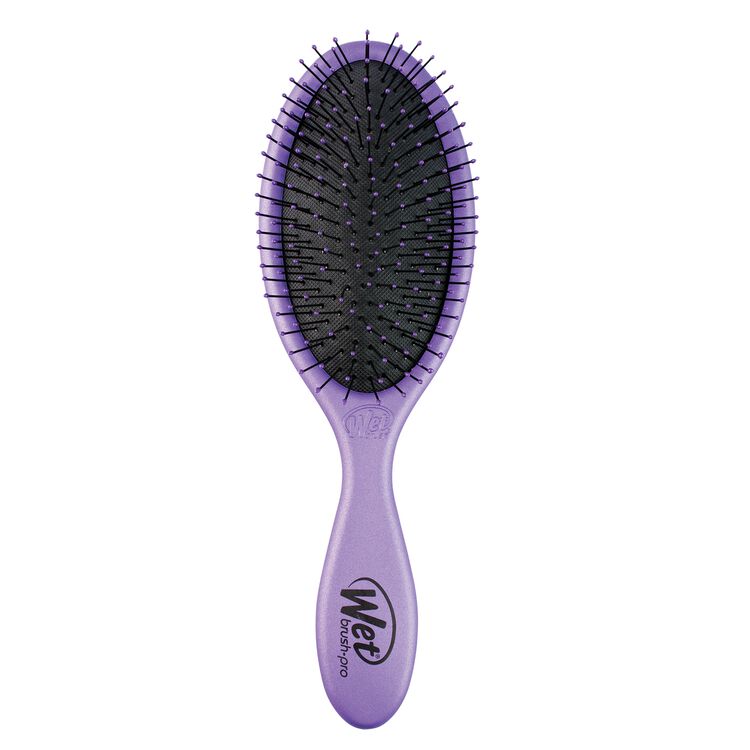 We all know how frustrating and painful it can be to brush and detangle massive knots that accumulate in your hair. Whether you have short locks or long stubborn hair, the Wet Brush easily fights through even the thickest hair quickly and painlessly thanks to it's revolutionary bristles.
What makes this brush an outstanding competitor is its Intelliflex bristles. Intelliflex bristles are thin, strong and flexible making for a quick recovery that allows bristles to bounce back to their original form without pulling or breaking fragile hair. In addition, the circular bulbs at the end of each bristle massage the scalp and aid in an easy passage through the hair shaft, bouncing back to their original form after each use. Not to mention the endless array of color choices and patterns that this brush is available in, it appeals to anyone or any age eliminating tears and pain from an otherwise daunting experience.
So, stop fearing what comes when you pick up your brush, and uncover those luscious locks hiding under those knots!